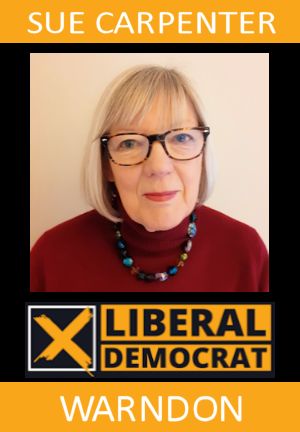 Sue comes from Yorkshire and has lived in Worcester for over forty years.
She is now retired but was previously a professional Librarian working in both education and local authority libraries.
She has also been a City and County Councillor. She lives in Claines with her husband Ken with whom she shares the pleasure of their three grand-children.

Sue is an experienced City and County Councillor and, if elected, would represent the interests of the residents of Wardon effectively and make sure their voice is heard
Better public transport, reducing congestion
Innovative parking schemes that prioritise residents
Support local business
Protect our green spaces
Build better homes and communities for all
Support the NHS, social care and carers

Reading, gardening, walking, music
One piece of music chosen by the candidate that they feel sum them up:
Thank you for reading my profile. I hope you will vote for me on May 5th.
If elected I will work to represent the needs of you and the community and work for the good of our City.

Sue Carpenter