Mel Allcott was re-elected emphatically in Claines with 1,933 votes - nearly 1,400 ahead of her nearest rival. Thank you to everyone that voted for her.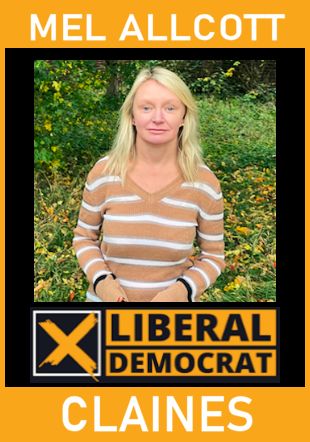 Worcester born and bred, for the last eleven years, I have been living in Claines. I am fortunate to have some family and many friends and colleagues near. Whilst I have enjoyed studying, working and living in other parts of the country, I believe Worcester is a great place to live, to work and spend time, with family and friends.
The local community is particularly important to me. I am a member of several local groups, including the Royal British Legion and Worcester Civic Society. I help with fundraising when I can and thoroughly enjoy a volunteer slot in a charity shop.
I am a qualified chartered management accountant. I have experienced first hand the challenges businesses face today, as well as working for local government and the charitable sector. It is very important to me that small businesses should be able to thrive in Worcester, delivering innovation and providing jobs without being at the mercy of the whims of multinationals.
I love the great outdoors and I am very keen on fitness, running and walking. It's only when you get out and about that you meet so many amazing people and see all the different facets of our city.
While many politicians get hung up on big, national issues, I also recognise that seemingly small, everyday issues can be what make life miserable or pleasurable for local people. That's why I have campaigned to sort out planning issues, public transport and pavements, as well as taking a stand on issues such as the environment, health and transport.
Improve Access to GPs and GP Services; 

Government must train more GPs;

Overhaul SEND provision with full parent and carer consultation;

Lobby for Adult Services which work; Government must resolve residential care costs for all;

Enable active travel for the many;

Improve bus provision; County Council must change policy for this to work; 

Increase recycling rates; County Council can do much more.

Hiit Training, swimming, walking
One piece of music chosen by the candidate that they feel sum them up:
Thank you for taking the time to read my profile. Do contact me, with thoughts, ideas and questions. Democracy is so important, your views count to me.
 Best wishes