Mel Allcott was re-elected emphatically in Claines with 1,933 votes - nearly 1,400 ahead of her nearest rival. Thank you to everyone that voted for her.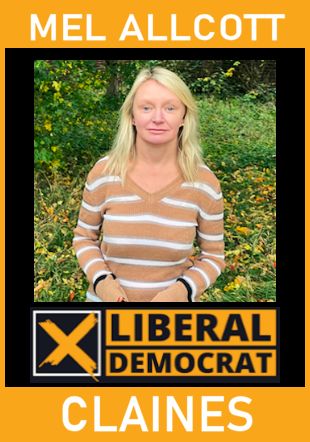 Born in Worcester, Mel qualified as a Chartered Accountant in Leicestershire and has lived in Claines, for twenty years.
Six generations of Mel's family have lived in Claines and Mel will do her utmost to look after this special place, for generations to come.
Mel knows, cares and understands Claines and Worcester as a City. Mel has been a City Councillor for almost 3 years and a County Councillor for almost 1 year. 
Mel has succeeded in securing many motions including climate change and biodiversity. Mel works hard all year round.  Pavements get resurfaced, safety posts fitted plus annoying potholes filled.  Mel is currently campaigning for better access to public services including public transport.
Improve Access to GPs and GP Services;

Government must train more GPs; Overhaul SEND provision with full parent and carer consultation; Government must address;

Lobby for Adult Services which work; Government must resolve residential care costs for all; Enable active travel for the many;

County Council must properly support; Improve bus provision; County Council must change policy for this to work;

Increase recycling rates; County Council can do much more.

Hiit Training, swimming, walking
One piece of music chosen by the candidate that they feel sum them up:
Thank you for taking the time to read my profile. Do contact me, with thoughts, ideas and questions. Democracy is so important, your views count to me.
 Best wishes